Garage door springs are made of steel, have many coils and are mounted to produce extraordinary power which will be used for the opening and closing of the door. Most springs are made of steel, which is heated in order to withstand different weather conditions and the force of the door's weight. There are also galvanized springs, which are not so strong. Torsion springs are designed to withstand heavy weights but depending on the door, two instead of one could be used in one door. The torsion spring garage door system works as the spring turns along the longitudinal axis on one end. The opposite end is usually stationary. This movement produces torque and releases the force expected for the lifting of the door. Extension springs for garage doors also have equal power with that of the door and their tension is released as their coils are stretched and contracted.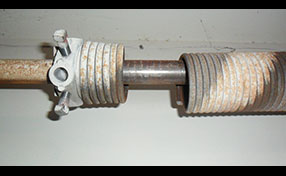 Dynamic team for spring service
The power of garage door springs is amazing and that's why it can also be threatening. It's not surprising that "Garage Door Repair Campbell" offers emergency spring services. We are as fast as we can be for broken spring replacement and make sure the job is done with perfection. Our technicians will help you measure the spring since the right selection is done depending on the needs of the door. We make sure the right end parts are also selected and garage door spring replacement is performed as soon as possible. We try to be fast because the overhead door will never open if the springs are broken.
We are proficient in spring replacement and all garage door repair services related to springs. They are the most crucial components of your system and it is the intention of our team to prevent problems and, thus, accidents. The technicians of our company are available for spring adjustment and ensure the door is balanced perfectly. We are fast when the springs are broken or ready to break and never leave our customers waiting. Contact us for any of your spring problems.